Skip to Content
Landscape Installations in Davis and Weber Counties
Transform Your Yard With Landscape Installations
Pro Landscape Utah transforms your existing property into a breathtaking landscape with our landscaping installation services in Davis and Weber Counties. There's nothing we can't install, from flower beds to water features. The end goal of every landscaping installation project is to ensure the design is customized and executed to the highest of standards and your satisfaction. With our landscaping installations, we want to improve your home's curb appeal while you revel in the beauty of your home.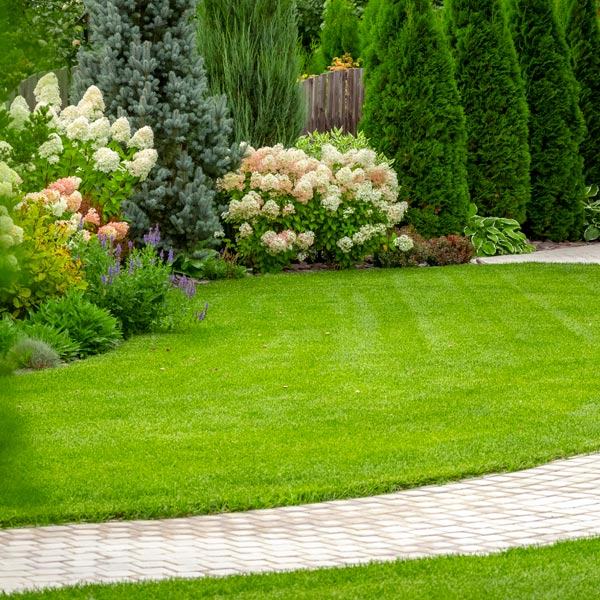 What is a Landscape Installation?
Landscape installation brings together all aspects of your yard, including softscape elements, hardscaping features, and greenery. We've spent years perfecting landscaping design and installation services for our clients. We're committed to making lawn care as easy as possible for you with sprinkler installations and maximizing your outdoor living area with gorgeous flowers and water features.
The Benefits of Sod & Mulch Installations
There are ample benefits to installing both sod and mulch on your property. Sodding is the quickest and most efficient way to establish your lawn. Sod releases oxygen, absorbs carbon dioxide, is easy to work with, uses less water than seed, adds value to your home, and even muffles noise from your home. With proper care, a newly-sodded yard can be ready for use in just three weeks – whereas seed can take up to six months. Like sodding, mulching is one of the best things you can do for your lawn. Mulch controls weeds, prevents soil erosion, retains moisture, maintains soil nutrients, and even controls pests. If you need to have sod or mulch installed, call Pro Landscape Utah today!
Benefits of Landscape Installation
There are many benefits of stunning landscape installation services, including:
Preserves Nature – Plants, trees, and greenery help boost natural resources and ecology.
Boosts Curb Appeal – Gorgeous landscaping boosts your property's beauty and increases property values.
Offers Heat Reduction – Plants help reduce heat by releasing water during transpiration, leaving the air pure and fresh. A grassy lawn provides a naturally cool environment, while tall trees provide shade for comfort.
Reduces Air Pollutants – Landscaping elements improve the air quality around your lawn by naturally capturing smoke particles and other pollutants. Plants absorb harmful chemicals in the air, helping to purify it without electricity.
Landscaping Services in Davis & Weber County
The Pro Landscape Utah team offers comprehensive landscaping services, including:
Why Choose Pro Landscape Utah?
At Pro Landscape Utah, our team wants to make your property shine. We use natural, high-quality products to bring beauty and life to your yard. We live and breathe landscaping, so you know you're in the best possible hands. We want you to enjoy the look and feel of your lawn and let us do all the challenging work. Whether you love the look of rocks, plants, trees, or water features, we can make your landscaping visions come to life.
Contact Us Today For Your Free Onsite Assessment
Pro Landscape Utah is happy to design and install a landscape you will love. We specialize in taking the landscape you have and transforming it into one of your dreams. We'll work with you to design and create the perfect landscaping installation for your property. No matter the size or scope of the job, our landscaping experts will exceed expectations. Contact us today!
We Make Sure the Grass is Greener on Your Side